The SC Law Enforcement Torch Run and Polar Plunge SC will host the 14th Annual Polar Plunge and Plunge Party on Saturday, February 2, 2019 at Sands Ocean Club in Myrtle Beach. More than 700 caring and brave plungers from across the state will take a chilly dip into the Atlantic Ocean to raise funds for Special Olympics South Carolina (SO-SC), which provides year-round sports training and athletic competition in a variety of Olympic-type sports events for children and adults with intellectual disabilities. In addition to the other South Carolina Law Enforcement Torch Run® events and other community events, the Polar Plunge has grown to be the largest local fundraiser for the SC Special Olympics.
Last year, Polar Plunge SC unveiled a brand new website to present and promote the fun of the Polar Plunge Myrtle Beach event. For many years, the Myrtle Beach Polar Plunge was the only plunge supporting the Special Olympics in the state. Now several other areas in South Carolina have plunges of their own, and that helps give even more to the Special Olympics of South Carolina and their determined athletes. We will soon be gearing up to showcase the other SC area plunges on our website as well!
Over $97,000 was raised at the 2018
"Freezin' for a Reason" Myrtle Beach Polar Plunge!
The Polar Plunge is a time-honored Myrtle Beach tradition, celebrating its 14th year in 2019. Registration will soon be open on this website or by calling (843)446-5820. We are working on migrating from FirstGiving to the Classy online donation portal. Participants must raise a minimum of $50 in pledges and will receive a commemorative event t-shirt and the great feeling of "freezin' for a reason". Those raising more than $250 are eligible for additional incentives, including limited edition Plunge gear.
"Despite the chilly weather last year, we received overwhelming support from the area community, who helped us raise funds for Special Olympics South Carolina," said Marcus Rhodes, Polar Plunge Myrtle Beach Director. "We look forward to returning to the chilled waters of the Atlantic in February to continue the Myrtle Beach winter-time tradition. Over the past 13 years, the Plunge has raised much needed funds for Special Olympics South Carolina, which has helped further our mission of transforming the lives of children and adults with intellectual disabilities."
"The men and women of the local law enforcement agencies are proud to be a part of the team already organizing the next Polar Plunge," said Marcus. "Our team will not be successful without the help of all those who plunge and support those plunging with generous donations that fund the great work of Special Olympics South Carolina. Whether you have plunged before, or have never felt that special Polar Plunge thrilling chill, I urge you to join the hundreds of others who will help continue this great tradition."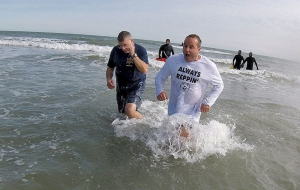 Lance Corporal Erik Karney, Beach Patrol for the Horry County Police, won the Public Safety Division Quarterly Award for his volunteer work as the Area Director for Special Olympics South Carolina Area 16 (Horry County). Karney used his partnership with LETR (Law Enforcement Torch Run) to form the Horry County Police Department Unified Basketball Team, one of which was chosen to play on the national level at the 2014 USA Special Olympics in Princeton, New Jersey. This team won the Gold Medal and received national recognition!
Karney volunteers his time as a representative of the Horry County Police raising money for the many events Special Olympics puts on for the children each year. He has been with the Horry County Police Department for over 13 years. The two largest fund raising events are the St. Patrick's Day festival and Oktoberfest which are both held on Ocean Boulevard. Other very successful campaigns include the annual Polar Plunge, Cop on Top, and the Red Robin fundraisers. Erik assists in getting other law enforcement officers to participate. He also organizes the different sporting events for the children. Horry County Special Olympics was able to assist over 400 children/athletes last year!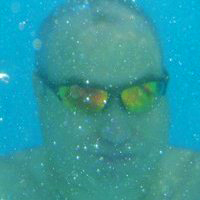 In addition to the Horry County Sheriff's Office, support and volunteers are provided by the Horry County Police Department, Conway Police Department, Myrtle Beach Police Department, the North Myrtle Beach Department of Public Safety and a variety of service organizations including the Coastal Carolina Fraternal Order Of Police Lodge 12, and the overall local Law Enforcement Torch Run efforts, along with hundreds of volunteers, including James McIlrath, a CPA and partner with Duncan, Farmer, McIlrath, Marlowe, & Cole Public Accountants.
"I am a lifetime plunger," said McIlrath, who became involved in the Special Olympics some 21-plus years ago when he served as president of the Myrtle Beach Civitan Club.
Since 2006 the Plunge has grown into a big fun event with games like bocce ball, volley ball, and tug of war. There is often live music, food, dancing, and cheering. A great event for bringing the community together. Typically in February, the ocean water is about 40-50 degrees. The cold water may not be very comfortable, but raising money for the Special Olympics is a heartwarming experience for all who attend!